Amanda Forry
Staff Accountant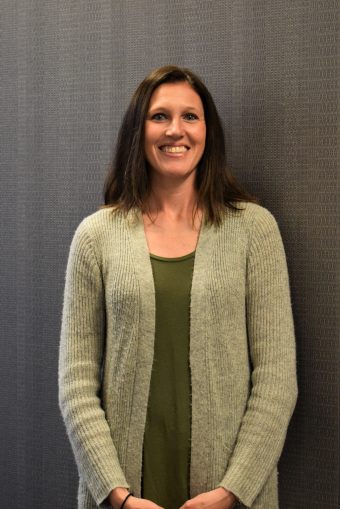 Present Position
Education
Bachelors in Secondary Education with an emphasis in Math/P.E. from Concordia University – Seward, NE.
Specialties
Payroll Preparation
Bookkeeping
What do you enjoy doing when you are not working?

I enjoy spending time with my family and I love being a mom. We go on a lot of walks and one of our favorite things to do is ride our bikes downtown and have dinner in the Haymarket. I also love to play and coach volleyball. I just finished coaching YMCA volleyball for my 7th year…and we were undefeated!
What is your background?

I grew up in Lincoln. I have 5 brothers and 2 sisters but since some are much older and one is much younger, I spent my childhood with just 3 of my brothers. We loved "swimming" in Dead Man's Run, walking to Gateway and organizing neighborhood baseball games. Prior to working at BMG I owned and operated a daycare in Firth, NE. Before the daycare (& Covid), I did payrolls at a different accounting office in Lincoln. I have done payrolls for most of my career life. Even though I graduated with a teaching degree, I only taught one year and decided I'd rather do more with numbers. My first job after teaching was doing payrolls and I was hooked. I love organization, schedules and spreadsheets and nothing makes the day better than when all your numbers in a payroll tie out 😊 I moved to Firth 2 years ago with my husband and children. We loved it out there but decided a move back to Lincoln was needed and are currently in the process of getting the entire family back in Lincoln.
What are three words to describe BMG?

Personable, Professional, Knowledgeable
What are the values that drive you?

The values that drive me can be summed up in one simple rule – The Golden Rule – "Treat others as you would like to be treated". This applies to treating clients the way I would want my family treated if they were the client. I work hard to instill this concept in my kids as well. I always tell them, "In a world where you can be anything, BE NICE!".
What concept in your profession that applies to your entire life?

One concept in my profession that applies to my entire life is being organized but also allowing for some "wiggle room". I have spreadsheets for everything in my personal life (and my husband loves to joke about it) and I've found that being organized both professionally and personally helps keep things running smoothly.

In auditing, the concept of materiality is, simply, setting a threshold that anything under that threshold won't materially misstate your financial statements. I try to apply this concept to my entire life – basically, don't sweat the small stuff!In auditing, the concept of materiality is, simply, setting a threshold that anything under that threshold won't materially misstate your financial statements. I try to apply this concept to my entire life – basically, don't sweat the small stuff!Save