Services
DELIVERING SOLUTIONS TO TOUGH BUSINESS PROBLEMS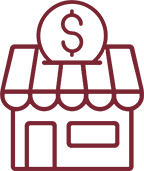 New Business Formation
Starting and running a business is the dream of many entrepreneurs. While it is exciting to think of being your own boss and putting your own ideas into action in a business venture, it also means working long hours, making hiring and firing decisions, obtaining financing and dealing with government agencies and tax authorities. One means of ensuring future success is to consult with a competent professional advisor early in the start-up process. Some of the pitfalls that often beset new businesses can be avoided by discussing your plans with one of our professionals at BMG.
Because we want our clients to get off on the right foot when they start their businesses, we have developed a guide entitled Starting a Business in Nebraska. The guide addresses such issues as:

Guide addresses such issues as:
Selecting the appropriate type of business entity
Obtaining state and federal ID numbers
Hiring employees and filing payroll tax returns
Paying sales and use taxes
Paying property taxes
Record keeping
Internal controls
Tax filings and due dates
Records retention

By establishing effective internal controls, business owners can increase their ability to prevent and detect fraud. At the organizational level internal controls help ensure the reliability of financial reporting and compliance with laws and regulations. At the specific transaction level internal controls reduce the opportunity for fraud.
The professionals at BMG have the training and experience to analyze your operations to see if controls are in place that address such things as:
Segregation of duties
Authorization for transactions
Monitoring of transactions
Retention of records
IT security
Management review of reports comparing actual performance to anticipated results.

After a lifetime of work building a business, owners don't want to see the fruits of their labor disappear when they reach retirement age. That concern is the same regardless of whether owners want to have family members continue to operate the business or if they want to sell the company to a third party. In order to pass a business on to family members, decisions have to be made as to who in the family is qualified to operate the enterprise in the future. In order to sell the company to an outsider, efforts have to be made to maximize its value to potential buyers.

BMG is able to help clients plan for succession by:
Calculating the value of the company to determine a fair price when ownership changes hands.
Helping current owners identify potential managers who can best ensure the continuing success of the business.
Minimizing the tax cost of the transaction so that retiring owners can maximize the after-tax value of their companies.
Helping evaluate alternative ways of financing the change in ownership.
Projecting future cash flows to ensure that operations will provide enough money to fund the acquisition of the business.
Suggesting changes in operations that can maximize the value of the business

As their businesses expand, owners often find that their need for financial advice and analysis expands as well. Unfortunately hiring a qualified chief financial officer on a full time basis may be cost prohibitive. To solve that dilemma BMG offers part-time CFO services to its clients on an as-needed basis. As a result clients acquire the services of a professional financial advisor who understands how businesses operate and is highly motivated to see the client succeed. At the same time business owners gain more time to concentrate on the things they do best to make their businesses successful.

By utilizing BMG part-time CFO services, clients can turn to a qualified professional who can:
Act as a trusted general business consultant, assessing business problems and offering specific solutions.
Interpret and convert financial data into actionable business intelligence.
Assist in dealing with bankers, business attorneys and others on financial matters
Prepare cash flow projections and budgets
Analyze tax savings strategies
Provide a sounding board for dealing with difficult business decisions
Help establish internal controls to protect company assets