Our Firm History
Background Information
The foundation of BMG Certified Public Accountants, LLP began in 1924 when Robert VanBoskirk and Calvin B. Remington founded one of the first accounting firms in Lincoln, Nebraska. Robert and Calvin were two of the earliest licensed CPAs in the state of Nebraska where Robert had Certificate Number 31 in 1923 and Calvin had Certificate Number 35 in 1924. (Click here to see copy of their Certificate Numbers.)
Their initial emphasis was audits of counties and cities where they were known to conduct audit fieldwork in the summertime, in a tent, outside of the un-air conditioned county courthouses. They performed accounting services using an early adding machine device called "The Marchant", which BMG still has on display today.
As the firm began to grow in the 1930's and 1940's, the area of service was expanded to Kansas and Iowa with the industrial emphasis on bakeries and creameries.
During 1953, William Fry, Leland VanBoskirk and Don Trumble became partners in the firm. Robert VanBoskirk died in 1953, and in 1962 the other founding partner, Calvin B. Remington, retired. Fred Reese and Arnold White were admitted to the firm at this time. Two of the larger clients during this time were Crete Mills and Cushman Motors.
Logo Evolution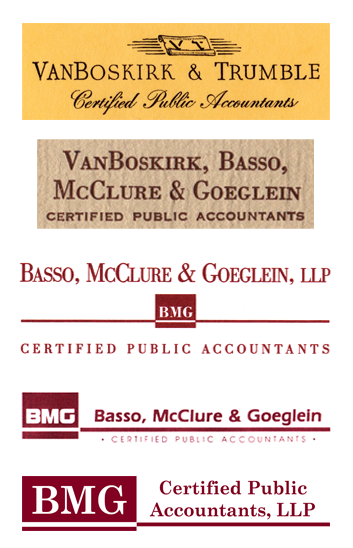 During 1973, the firm of VanBoskirk, Fry & Trumble split into two new firms, one of which was VanBoskirk, Trumble and Associates.
The firm of VanBoskirk, Trumble and Associates included Art Basso, Mike McClure, and Tom Goeglein. In the early 1980's both Robert Van Boskirk and Don Trumble retired and in 1983 the firm became known as Basso, McClure & Goeglein with Art Basso, Mike McClure and Tom Goeglein as partners in the firm.
In addition to providing services in the traditional areas of accounting, auditing and tax preparation, during the 1990's the firm began offering several non-traditional accounting services including forensic accounting and litigation support, business valuations, peer reviews, payroll services, and Quickbooks consulting services.
In 2005, Art Basso retired and Todd Blome became a partner. In 2006, following Art's retirement, the partners decided to change the firm name to BMG Certified Public Accountants, LLP.
In 2009, BMG became the first CPA firm in the country to develop an iPhone/iPod Touch app, when it created iDonatedIt. Then in 2010, BMG was the first CPA firm in the country to offer an iPad app, when iDonatedIt for the iPad was released.
In 2013, Tom Goeglein retired, followed by Mike McClure in 2014.  Sarah Boehle Pool was admitted as a partner in 2014.
BMG Certified Public Accountants, LLP and its predecessors have served the Lincoln and surrounding areas for almost 90 years. We are very proud of our heritage and look forward to serving current and future clients for generations to come.