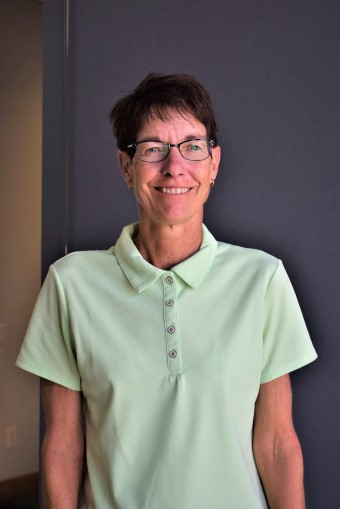 Present Position
What do you enjoy doing when you are not working?

My husband and I love to golf, so it is not unusual to find us on the golf course 4-5 times a week. We are also big Husker volleyball fans and go to the games,
along with Husker women's basketball. I also volunteer at an animal shelter, Hearts United for Animals, where we have adopted several poodles. We currently have two rescue poodles, Myrtle and Penny Lane.
What is your background?

I was born in Grand Island NE, but have lived in Lincoln most of my life, since first grade. After high school I went to Doane College and studied math and business. At Doane College I played 2 years of collegiate volleyball. I also went to Southeast Community College and received a certificate in dental assisting and was a dental assistant for 12 years. After being a dental assistant, I worked at a law firm for 8 years and then a global auction company for 15 years,
doing accounts payable.
What makes you excited to come to work every day?

The days are never the same. I like the variety and flexibility that BMG brings.
What are three words to describe BMG?

Don't procrastinate, if you have time, do it now.
In auditing, the concept of materiality is, simply, setting a threshold that anything under that threshold won't materially misstate your financial statements. I try to apply this concept to my entire life – basically, don't sweat the small stuff!In auditing, the concept of materiality is, simply, setting a threshold that anything under that threshold won't materially misstate your financial statements. I try to apply this concept to my entire life – basically, don't sweat the small stuff!Save