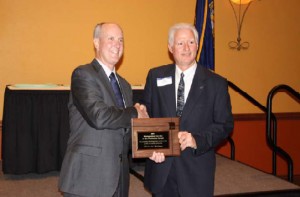 Mike McClure, CPA and Partner with BMG Certified Public Accountants, LLP was awarded the Distinguished Service to the CPA Profession Award by the Nebraska Society of CPAs at their 83rd Annual Meeting at the Embassy Suites in LaVista on October 26, 2011. The Award is the most prestigious award given by the Society. Along with the award is a one-time $2,500 scholarship given in Mike's name to a Nebraska college accounting student for the 2011-12 college year.
During the ceremony Dan Vodvarka, President of the Society noted that the award was given to Mike "for the time and talent he has unselfishly given over the years to advance the CPA profession in Nebraska; for his leadership in the continued success of a long-time, historic Lincoln accounting firm and for his professional dedication to the Quality and Peer Review programs within the CPA profession at the state and national levels".
"The Partners and staff at BMG are thrilled that Mike received this award and we are honored to work with him" said Todd Blome, one of the partners of BMG. "Mike's leadership, integrity, and commitment to the CPA profession are unmatched. He serves as an example that others should follow."
BMG Certified Public Accountants, LLP has been providing professional services to individuals, businesses, nonprofits and government agencies since 1983. In addition to providing services in the traditional areas of accounting, auditing and tax preparation, BMG also provides litigation support, business valuations, peer reviews, payroll services, and Quickbooks consulting services.